'Cold and featherless' barn owl chicks rescued from lorry of hay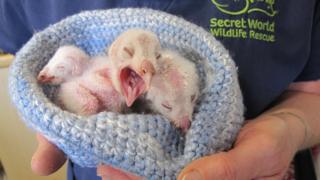 Three baby barn owls who were discovered cold and featherless in a lorry of hay are recovering in a wildlife sanctuary.
They were brought in by a lorry driver who heard faint chirping among the straw while making a delivery.
A fourth chick did not survive but the others are at Somerset-based Secret World rescue centre.
All three were checked over before being put in an incubator.
Trudi Howell, one of the centre volunteers, said: "At this age they would still be totally reliant on their parents and would not be leaving the nest so I have been feeding them small pieces of meat several times a day and keeping them warm.
"They still need me to feed them, using tweezers, but once they can feed themselves I will have as little contact with them as possible."
Ms Howell added once mature, the barn owls will be looked after in an outdoor aviary before being released into the wild when they are old enough to fend for themselves.