Green light for Weston-super-Mare beach huts criticised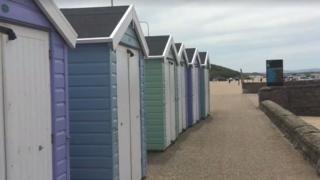 Campaigners have criticised a decision to approve plans for multi-coloured beach huts in a seaside resort.
North Somerset Council gave permission last year for 97 structures on the seafront at Weston-super-Mare.
The planning application had to be resubmitted after it was discovered the first 24 had been built bigger than plans initially stated.
Protestors feared they would obstruct the public right of way and block the view.
The council has now said no more than the existing huts, which are rented out, will be allowed to be built.
Toby Blackburn, who started a petition against the plans, said his objection was about the position of the huts.
"I can't find a single installation elsewhere in the UK, with a promenade with beach huts, where they've placed the beach huts centrally on the space.
"They always sit at the back with the shared space at the front. There are a lot of issues to do with safety with cyclists and pedestrians using it."
Darren Fairchild, from the council, said there was an error in the initial application and the huts were "about 18cm bigger than they should have been".
"We've just got to do a bit of tidying up and relining of them, and fix them to the promenade to ensure they don't move."
Mr Blackburn said he was happy no more huts would be built.
"To have put 97 along that section would not have worked," he said.