Hunt saboteurs 'driven into by car' in Somerset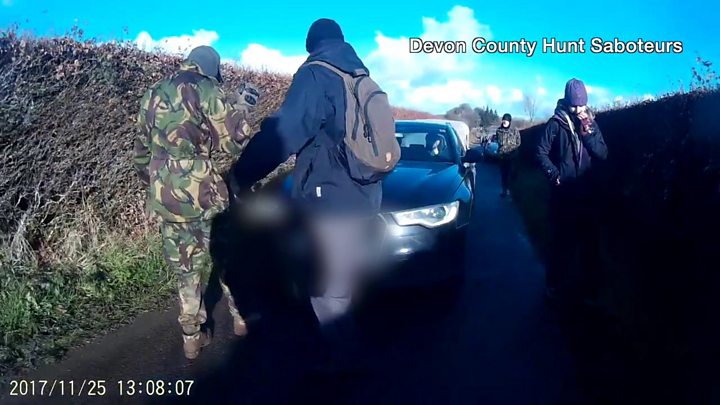 Video footage reportedly showing hunt saboteurs being driven into after disrupting a hunt on Exmoor, has been posted online
The bodycam footage shows two anti-hunt protesters in a confrontation with a driver on a narrow lane near Minehead in Somerset.
Devon County Hunt Saboteurs said they believe the driver was a member of the Severn Vale Beagles.
Devon and Cornwall Police said it was investigating the allegations.
Severn Vale Beagles said it was also conducting its own internal investigation.
The clip, which has been viewed more than 32,000 times, was posted on the animal rights group's Facebook page on Monday.
'Lucky escape'
One of the alleged victims, who wants to remain anonymous, said they were at an "illegal hare hunt" near Simonsbath on Saturday when they were "hit by the car" as they were walking along a narrow country road.
"We had a lucky escape from either going under the wheels or being caught by the trailer as the car sped off."
In a statement Devon and Cornwall Police said: "We have received an allegation of a person being driven at by a Audi in Simonsbath, Minehead on Saturday 25 November.
"Police have spoken to the reporting person, and will be making enquiries into this matter."
A spokeswoman for Severn Vale Beagles said: "The hunt takes any allegations very seriously and as such we are conducting an internal investigation."