Three new options for Somerset dual carriageway plans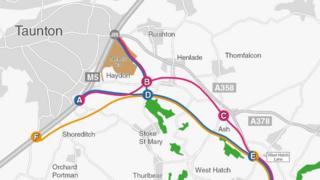 Three new options for creating a dual carriageway between the M5 and the A303 in Somerset have been unveiled.
Highways England came under criticism last year for only consulting on one route for the proposed upgrade of the A358 between Taunton and Southfields.
A fresh consultation has been launched with revised proposals, including options for a new motorway junction.
The upgrade is part of wider plans to create a dual carriageway linking the M3 in Hampshire and M5.
In March last year, the government and Highways England suggested turning the A358 into a dual carriageway between Southfields roundabout and the M5 at Taunton.
Councils criticised the plans for their lack of detail and residents complained at the lack of other options.
Highways England project manager David Stock said: "The additional consultation will offer people the chance to have their say on a number of options, the details of which will be announced when consultation launches."
The three options follow a slightly different alignment from near West Hatch Lane to the M5:
Two of the options (Pink and Blue routes) connect with the M5 either via a new junction or a spur linking with junction 25
The third option (Orange route) was presented in the 2017 consultation. It connects with the M5 via a new junction to the south of the existing junction 25
Whichever route is chosen could contain elements of each of these options.
The consultation will continue until 27 February with an announcement on the preferred route expected in late 2018.