Mendips greenbelt 'illegal eyesore' to be demolished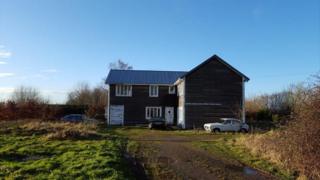 A building put up without planning permission on greenbelt land near the Mendips in Somerset is to be torn down by the council.
The unauthorised "eyesore" was built on farmland at Folly Lane, Stowey, in 2008, sparking numerous complaints.
The site owner was ordered by Bath and North East Somerset Council to pull the building down and restore the land by 2010, but has failed to do so.
In an "unprecedented" move the council is having the building demolished.
The structure, which the authority says "looks like, and has the appearance of a dwelling house", was put up despite planning permission for a similar building being refused in 2005.
Bats delay
The landowner and company responsible - AJP Growers - was served notice to demolish it, but the council said it had "repeatedly failed" to comply and was taken to court and prosecuted in 2016.
The property was due to be demolished by the council last year, but was given a stay of execution after bats were found in the building.
Councillor Bob Goodman, cabinet member for development and neighbourhoods, said as far as he was aware, the council had never taken enforcement action this far before.
"I am disappointed that the owners have let it get to this point," he said.
"However, we have pursued this case and at long last this illegal building, which is a real eyesore, will be demolished and the land put back as it should have been done almost 10 years ago."
According to the council there are "only a handful of these interventions" nationally each year.
Mr Goodman said it was important the council showed it had "the teeth to follow through with the most extreme form of enforcement available when necessary".
Demolition is due to take place on Tuesday and Wednesday and the council says it has several legal options available to recover the costs.
AJP Growers has yet to respond to requests for comment.