Porpoise put down after washing up on Somerset beach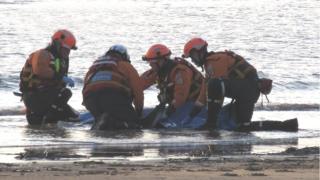 A porpoise found washed up on a beach in Somerset with multiple injuries has been put down.
The 1.2m (3.9ft) long female had injuries to its body and tail when it was spotted by a dog walker in shallow water at Burnham-on-Sea.
A marine mammal medic team from BARB Search and Rescue was called out to Burnham beach at about 18:30 BST on Saturday.
BARB said it believes the injuries had been caused by a boat propeller.
The mammal was spotted in a "distressed state" in the sea north of Burnham lighthouse.
Mark Newman, from BARB, said the porpoise was moved out of the water, assessed and kept "calm and wet" until a vet arrived.
"The local vet made the decision that it would need to be put down to end its suffering," he said.
"It was a very sad outcome for such a beautiful creature."
Mike Hayes, from Blackrock Vet surgery, said the porpoise had been "injured in several places" and had "suffered deep wounds".
"Putting it down was the only humane option," he said.
---
Porpoise or dolphin
Dolphins usually have bigger mouths and more curved dorsal fins
Porpoises are generally smaller than dolphins and lack the distinctive beak
Dolphins are more prevalent than porpoises
Dolphins are more talkative than porpoises
Both have many similarities, including extreme intelligence