Somerset adult care firm staff "burnt out" after takeover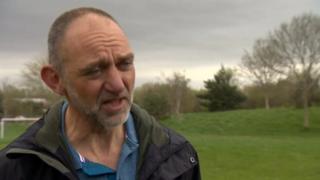 Adult care staff say they feel "burnt out, stressed and undervalued" a year after the council-run service was transferred to a non-profit firm.
Discovery Somerset took over the learning disabilities service in April 2017, since then 200 staff have left.
Former employees told the BBC they felt standards were falling and there was a culture of fear.
Somerset County Council said the staff turnover was an acceptable price to pay for the transformation of the service.
Speaking to the BBC anonymously, one ex-worker said: "We're feeling burnt out and stressed which results in falling standards and more incidents and errors.
"The feeling is that Discovery are looking for ways to catch staff out and get rid of them.
'No proper negotiation'
Ex-assistant support worker Sean Cox worked at a home in Glastonbury when new terms and conditions, which involved heavy pay cuts, were brought in.
He said: "For workers, it was £3 to £4 an hour less - staff didn't take that very well, there was never any proper negotiation to look at what was feasible.
"It was one letter telling you your pay will be cut."
The firm has also been criticised by families of adults with learning difficulties for not meeting their needs.
Discovery Somerset, which was set up by the national company Dimensions, said although nearly 200 staff left they had now been replaced.
Managing director of Discovery Somerset, Luke Joy Smith, said: "The turnover is more than what we would have wanted, we have lost some really good staff.
"One of the things that created the significant change is that we had to make it financially sustainable and put in proposals about a set of terms of conditions.
"That created huge anxiety, it was shock, surprise, that was about making it fit for the future."