Barnsley and Rotherham vulnerable to economic woes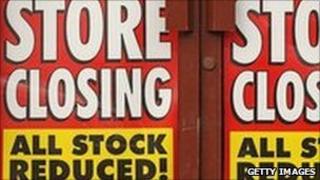 Barnsley and Rotherham are among the worst-placed towns in England to weather a stormy economy, research commissioned by the BBC suggests.
The Experian study ranks the 324 English councils in terms of their resilience to future economic shocks, such as public sector cuts.
Barnsley lies 311th and Rotherham 310th in the overall list.
Both towns had a high proportion of businesses in vulnerable sectors like engineering, metals and construction.
Their vulnerability to economic fluctuations is reflected in the research, which shows high levels of insolvency recorded over the past nine months.
Rotherham's insolvency rate ranks 15th worst in England, with Barnsley 42nd from bottom and the city of Sheffield suffering high levels of business failure at 55th from bottom in the list of 324 areas.
Phil Meekin, of Sheffield insolvency practitioners Wilson Field, said: "We are extremely busy.
"There has been a dip of more than 20% in the last 12 months in the number of corporate insolvencies, but I'm not entirely convinced that trend will continue.
"I think it may, unfortunately, get worse."
Doncaster also suffers from having a very low proportion of businesses in high-growth sectors, such as high-tech manufacturing or the knowledge-based industries. It ranks 310th out of 314 on that measure.
On the plus side, Sheffield, Rotherham and Barnsley all score well in terms of the number of firms that export goods.
The Experian study aims to show the ability of areas to withstand and respond to shocks such as job cuts.
But it does not indicate the areas which will suffer the biggest public sector cuts after the government's October spending review.
Researchers looked at four key themes - business, community, people and place and 33 different factors were examined to produce the index.
As well as the strength of the local business base, they included people's skill levels, life expectancy, crime rates and house prices.
Sheffield scored poorly in terms of vulnerability to long-term unemployment and levels of social cohesion and deprivation.
Doncaster, Rotherham and Barnsley were all among the 50 worst areas in terms of the number of people claiming benefits. House prices in those three towns are all in the lowest 10% in England.
Spending Review: the Look North debate is on BBC One on Thursday at 2235 BST, presented by Harry Gration. Radio Sheffield debate and phone-in on Friday from 0900 BST.