Sheffield's St Luke's Hospice cuts beds and staff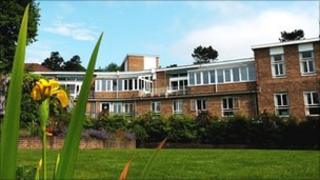 Sheffield's only hospice is to cut the number of beds and make staff redundant amid falling funds and higher costs.
St Luke's Hospice has also axed plans to move from its current location at Whirlow to a new site in Norfolk Park.
Previous measures, including job cuts and the closure of the staff nursery, have reduced its projected deficit this financial year from £1.3m to £700,000.
Chief executive Peter Hartland said: "We've run at a deficit for the last two years and that can't continue."
He said the in-patient unit, which currently operates 24 beds, would be reduced to a 20-bed capacity and there were likely to be redundancies among the workforce of 190.
'Increasingly difficult'
Mr Hartland said: "The recession has hit St Luke's hard, with falling property values reducing the value of legacies and low interest rates reducing the income we get from investments.
"We rely on our supporters for two-thirds of our income, but many of them can't afford to give as much as they used to."
In addition, he said the real value of funding from NHS Sheffield had fallen from covering 41% of its costs in 2003 to about 30% in 2010.
"Our services to our patients, their families and carers are, and will remain, free of charge," said Mr Hartland.
"All this means that our financial position has grown increasingly difficult."
The hospice was now drawing up proposals for improvements to the existing site at Little Common Lane.
"Carrying out this essential work on our current building will cost much less than relocating would have done.
"In the new economic climate, it is the only sound option."