Concern over Doncaster Council's plans to scrap wardens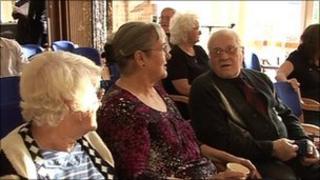 Concerns have been raised over a plan by Doncaster Council to stop wardens visiting elderly and vulnerable people living in sheltered accommodation.
The council wants to save £1m a year by replacing the daily visits with a wristband panic button scheme.
But the proposal has angered some residents who say they will miss the face-to-face contact, and fear their lives may be put at risk.
Doncaster Council said the move would modernise and improve the service.
About 4,000 people in the town currently receive a daily, five minute visit from the wardens.
Under the new scheme, residents would instead be encouraged to wear a wristband with a button they could press if they got into difficulty.
Jennifer Jarvis is a resident at the town's Jubilee Court and suffers from epilepsy and has dialysis.
'Outdated' system
She told BBC Look North that the council's proposals worried her.
"To have that visit, that security and safety, and then to have that taken away - you have got nothing."
Joan Beck, the council's director of adult services, said residents could get an immediate emergency response by pressing their wristband button if they needed help.
"It's replacing an outdated system with a much more modernised system."
She added: "Whilst we appreciate some people are concerned about the withdrawal of the daily visit, we can provide a better service for more people."
Ms Beck said they were consulting with the public on the possibility of introducing a voluntary befriending scheme, where members of the public are recruited to visit residents.
A public consultation into the proposal is currently under way.
It will then go before the council's cabinet for approval.