Queen opens Sheffield Motor Neurone Disease centre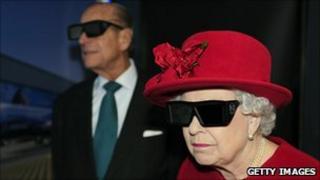 The Queen has opened a £12m centre dedicated to the study of motor neurone disease during a visit to Sheffield.
Accompanied by the Duke of Edinburgh, the Queen was given a tour of The Sheffield Institute for Translational Neuroscience (SITraN) on Thursday.
She met scientists and doctors who are researching the causes of the disease and trying to find a cure.
The centre, the first of its kind in Europe, is being run by staff from the University of Sheffield.
Professor Pam Shaw, director of the institute, said: "It's the realisation of a dream for me.
"I've wanted to see this ever since I was a medical student.
"The Queen was very interested in what we're doing and was very chatty. It was a really lovely visit, such an honour for them to come.
"It's been a sort of neglected condition. This will raise the profile for it."
Motor neurone disease (MND) destroys the cells that control movement, resulting in progressive disability.
At present the disease, which affects more than 6,000 people in the UK, is incurable and treatments are very limited.
Wedding announcement
Stuart Keane, a patron of the institute, whose son Shaun died from the disease earlier this year, said he held back tears as he met the Queen.
He said: "I did well. I didn't start to cry and drown her in tears.
"I told her how my son had been diagnosed with MND and how hopeless you feel when you find out about the horrors of the disease."
The Queen also visited Sheffield Cathedral to see award-winning projects led by Sheffield Volunteering, based in the university's Students' Union.
Later she toured the university's Advanced Manufacturing Research Centre where she led a ceremony to mark the start of construction for the new Nuclear Advanced Manufacturing Research Centre.
The Queen donned 3-D glasses as she virtually piloted a digger to start building work on the new centre, which is scheduled for completion next April.
The Sheffield visit is the Queen's first public engagement since the announcement of the wedding of Prince William and Kate Middleton.