Doncaster's Keepmoat Stadium in £1m overdraft request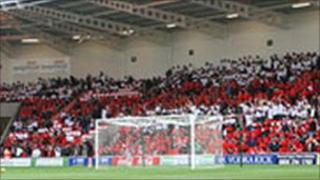 Managers at Doncaster's Keepmoat Stadium have requested a £1m overdraft extension from Doncaster Council.
The Stadium Management Company (SMC) said it requested the 12-month extension to provide future financial flexibility and stability.
The SMC say finances are improving and a £2,000 profit is expected by the end of the financial year.
Doncaster's Cabinet will discuss the request on 11 January, but the extension of the overdraft has been recommended.
SMC chief executive Shane Chalmers said: "We are pleased with the continued improving financial situation of the Keepmoat Stadium, especially in the current economic climate.
"The stadium made a profit in 2009 and will do so again in 2010. This is thanks to a number of cost-saving measures put in place by the SMC.
"We can confirm that we will be speaking to Doncaster Council's Overview and Scrutiny Panel next week regarding an extension to our overdraft facility."
In a report, the council panel recommends extending the overdraft to "provide a buffer against delayed payments and other unforeseen events".
It also states that it would enable the SMC to take advantage of investment opportunities which require upfront investment.
The report also suggests two others options, to reduce the overdraft guarantee to £800,000 or for the council to withdraw its support, both of these were not recommended.
The current £1m overdraft guarantee on the stadium, the home of Doncaster Rovers FC, is due to expire on 31 March.