Barnsley Central by-election candidate was 'spat at'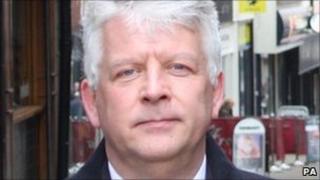 The Liberal Democrat candidate who came sixth in the Barnsley Central by-election has told of being spat at and abused while campaigning in the town.
Dominic Carman also said he had encountered "disturbing" attitudes to foreigners and immigration.
He said the town's staunch Labour electorate had focused their anger over public spending cuts on the Lib Dems.
Labour's Dan Jarvis, who won the poll, said: "The first rule in politics is don't blame the electorate."
The newly-elected MP said: "The Lib Dems have been having a go at Barnsley every day since they were humiliated in the by-election.
"My advice to Dominic and the Lib Dems, which they will probably ignore, is 'if you are in a very big hole, stop digging'."
'No gays' in Barnsley
The row was sparked by an article in The Mail On Sunday in which Mr Carman said he had been subjected to abuse because "in towns like Barnsley, where the Lib Dems once harvested votes as a party of protest, they now attract derision as a party of government".
Referring to attitudes on the street to immigration or homosexuality, he wrote: "Barnsley is 98% white. Diversity and difference are not welcome here.
"Local sentiment is summarised by one man, who tells me: 'No-one is gay in Barnsley. If they are, they leave.'"
Another woman tells him: "You're all bloody foreigners," referring to the fact that neither he, Mr Jarvis nor the Conservative candidate James Hockney are from Barnsley.
Explaining his reasons for writing the article, he told BBC News: "Obviously I received a lot of insults, not against me personally, but because of the [Liberal Democrats'] yellow badge and what it means to people and that is what I wanted to get across.
"A lot of people feel very strongly about the Liberal Democrats because they feel they are enabling a Conservative government to be in power and to put cuts in place.
"One respects their feelings, although obviously when it comes to being abused or spat at I think that crosses the line which is acceptable.
"I do say, if you read the article, that most of the voters of Barnsley are cordial and welcoming, but clearly there is a significant minority who were not.
"There are obviously very strong feelings about foreigners and immigration there and I think that is the thing which is most disturbing."
However, Mr Jarvis, who served for 15 years in the Parachute Regiment and lived in Hampshire before being elected to serve Barnsley, said: "Dominic Carman was rejected by the people of Barnsley, not because he comes from Manchester or lives in London, but because he is a Liberal Democrat.
"My experience of Barnsley is that it is actually the most hospitable place I have ever been to.
"It has a very strong sense of community and Dominic and other Liberal democrats paint a picture of Barnsley which I don't recognise at all.
"Like any part of the country there are sadly going to be some people who have racist views but... Barnsley is not a racist town."