Miner Ray Noble's family wins Retford asbestos case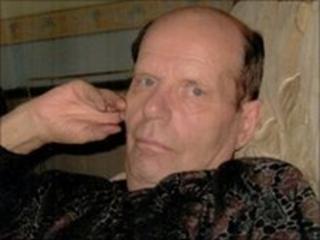 The family of a miner who died years after an experiment with asbestos coating in a pit have won compensation three years after his death.
The daughters and son of Ray Noble took the case to the Court of Appeal saying their father's health had suffered.
Daughter Jackie Day, a midwife from Barnsley, jointly brought the case and won £72,500 from the Department of Energy and Climate Change (DECC).
Mr Noble had worked at the former Bevercotes Colliery, near Retford.
The legal case was brought by Mrs Day, 54, her sister Gill Eardley, who lives in Spain, and brother Tim Noble, 53, a delivery driver from Retford, Nottinghamshire.
The government department is responsible for the former nationalised coal industry's liabilities.
'Asbestos slurry'
Grandfather Mr Noble - a former colliery bricklayer known as 'Raggy' to friends - was working when the National Coal Board (NCB) experimented with coating tunnel walls with an asbestos slurry at the now-closed Bevercotes Colliery, near Retford, in 1965.
Once the material had formed a concrete-like crust it had to be broken open with pick axes to allow for construction work Mr Noble carried out, throwing "substantial" quantities of asbestos into the air.
While process workers employed by a private Scottish contractor wore respirators, NCB staff were handed paper masks which did almost nothing to trap the tiny particles.
Some 35 years later, Mr Noble developed mesothelioma - a form of cancer rarely seen before asbestos was widely used in industry.
The family sued the DECC for negligence and breach of its legal duty of care to their father and won last September following a hearing at Sheffield County Court.
The government appealed, claiming it did not know the dangers of asbestos - which is now banned throughout Europe, America and other countries - at the time.
However, a judge, Mr Justice Leveson, ruled in February the risks were well known.