Lib Dem Sheffield conference policing 'over the top'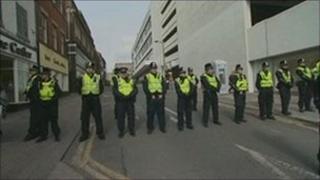 South Yorkshire Police's £2m operation to deal with protesters at the Sheffield Liberal Democrat conference has been criticised as "over the top".
Half the expected 10,000 demonstrators turned up and Saturday's march was largely peaceful, although one man was arrested for discharging a firework.
Martin Mayer, of Sheffield Anti-Cuts Alliance, said an 8ft (2.4m) high steel security fence was "unnecessary".
Police said they "could not take a chance on over-policing".
Operation 'a success'
Mr Mayer said: "I think they might be a little bit embarrassed because they have been criticised.
"It is over the top, there's no doubt about that.
"To be paying £2m of taxpayers' money for a security fence of that nature plus thousands of police and police vans, we don't think that's necessary."
Police said 1,000 officers were on duty throughout the operation.
The Liberal Democrats cancelled a London conference in December due to protest threats.
Ch Supt Simon Torr said: "I'm conscious that people may think we have wasted public money on this event but the recent scenes in London meant that we could not take a chance on over-policing this event.
"The number of protesters was at the lower end of what we'd expected, but we had to plan for the worst case scenario.
"There were some people intent on causing disruption who occupied around three shops in Fargate, but we were able to deal with them swiftly because of the resources we had in place and they were moved back to the protest zone.
"I would say this operation remains a success and people, from delegates, to protesters and members of the public, have been able to go about their business safely."
He added that the final bill for policing the event would not be known for some weeks, but some officers were stood down when necessary.
The three-day conference has drawn to a close.
A 24-year-old man was arrested for public order offences and discharge of a firework in a public place.
He was later released without charge, but handed an £80 fine.
Barricades were in place on Fargate and Surrey Street following a series of incidents during the protest, police said.
But officers described the event as "good-natured on the whole".