Meeting over Doncaster primary school closure plan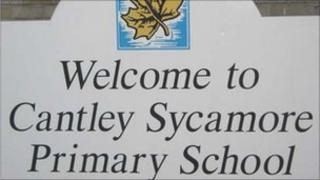 Education bosses have met parents over the planned closure of a Doncaster school as part of plans to "improve educational standards".
Doncaster Council wants to shut Cantley Sycamore Primary because of surplus places, despite an Ofsted report in November which rated it as good.
Some parents are campaigning to keep the school open fearing the impact closure would have on youngsters.
Parents were invited to attend meetings at the school on Monday evening.
A campaign group has been set up on Facebook calling for the closure to be stopped.
Viability of school
One parent said: "It is not just a case of moving all the children away to a new school, they are being torn away from their long-term friends who have found they can't travel or get into the same school.
The council said Cantley could accommodate 203 pupils but that numbers were falling.
In January 2010 there were 97 pupils on the roll. This fell to 83 pupils a year later.
The council said it predicted this number would reduce to 56 by September.
In a consultation document, the authority said: "This would result in 72% or 147 surplus places, putting at risk the educational standards and viability of the school."
People can give their thoughts on the closure as part of a council consultation which runs until 11 April.
The authority is expected to make a final decision in June.
If approved, the school would close on 31 August.