Darnall teenager killed: police call for calm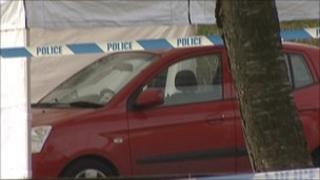 Police in Sheffield have called for calm amid reports of rising tension between groups of youths after a boy was knocked down and killed by a car.
Four men have been arrested on suspicion of murder after the teenager, thought to be aged 16 to 18, died in Darnall on Thursday night.
Police said they dealt with several disturbances in the area on Thursday.
Ch Supt Simon Torr said: "If anybody has information about tension in the area then we need to know."
One resident, who did not want to be named, told BBC News: "It seems to have escalated from nothing really, it's a petty feud which has got out of hand.
"I know there are a few lads who have got issues with each other."
South Yorkshire Police believe a car mounted a pavement on Coleridge Road at about 1930 GMT and struck the teenager who later died.
They are also looking into other incidents in nearby Staniforth Road and Ribston Road which may be connected to their inquiry.
Police met community leaders in Darnall on Friday as part of the investigation and said extra high-visibility patrols would be mounted over the weekend to reassure residents.
Meanwhile, officers said they were awaiting the results of a post-mortem examination on the teenager who died before formally identifying him.