Wath-upon-Dearne e-mail prayer request system started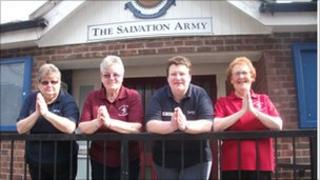 The Salvation Army in Wath-upon-Dearne has started a prayer service called Pray4U.
People will be asked to e-mail in their prayer requests and six volunteers will pray for them.
Catherine Dodd, leader of The Salvation Army in Wath-upon-Dearne, said: "As people are using the internet more I thought it would be a good idea to use e-mail to gather requests.
"I think that knowing that someone is praying for you can be a comfort.
"As Christians we are people of prayer, there are people who want to pray but are not sure how to."
Mrs Dodd became the Salvation Army Minister in Wath-upon-Dearne in 2009 and said she became aware that people needed "prayer for lots of different things like job losses, illness and bereavement".
The launch of Pray4U coincides with the Salvation Army's Fast Forward Prayer and Fasting event.
Members of the church will abstain from eating for 24 hours while concentrating on praying for people and their concerns.