Nick Clegg caught out in winter fuel phone-in gaffe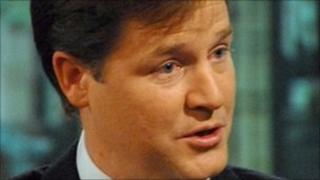 Deputy Prime Minister Nick Clegg is to write to a radio phone-in caller to clarify remarks he made about winter fuel payments.
Mr Clegg appeared to be unaware of changes that the government is to discontinue an extra top-up payment worth £50 - £100 a year to pensioners.
But when asked by two callers to a phone-in on BBC Radio Sheffield he initially dismissed their concerns.
Mr Clegg will write to a caller and BBC Radio Sheffield to clear any confusion.
One caller, George, said he had read about the change in a newspaper.
Mr Clegg replied: "Firstly, I wouldn't believe everything you read in the papers, I certainly don't these days.
"Secondly, we have increased winter fuel payments."
'Frighten people'
Another caller, Ian, said he had heard the Shadow Chancellor, Ed Balls, talking about the change to winter fuel payments on Radio 5 Live.
In response, Nick Clegg said of Ed Balls: "Honestly, I don't know what he's on about.
"He keeps sort of throwing around a lot of sort of wild allegations."
He later accused the Labour Party of "making it up as they go along to frighten people".
But, when challenged by the presenter, he said on air that he would look into it.
A spokesman for the Deputy Prime Minister has insisted Nick Clegg is fully aware of what was in the budget.
But the spokesman added Mr Clegg would be contacting both phone-in caller George and BBC Radio Sheffield to clear up any confusion.
He added that the changes to winter fuel payments were not technically a "cut," but instead a decision not to continue what had been intended originally as a temporary measure.