England Ghana honour for Arthur Wharton's family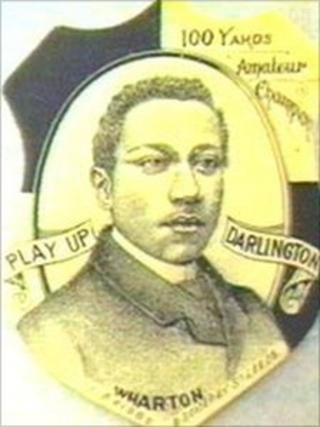 The granddaughter of Britain's first professional black footballer will be the guest of honour at Wembley for England's match with Ghana on Tuesday.
Sheila Leeson, from Rotherham, is the descendant of Arthur Wharton who came to the UK from Ghana and played from the 1880s to the 1900s.
She has been recognised for the research she did into Mr Wharton, who played for seven English clubs.
He was also the first man to run 100 yards in 10 seconds.
Ms Leeson's said: "My mother had all of his photographs and memorabilia which we did not find until after she died, that is when we found out that he was such a good runner."
Howard Holmes from Sheffield charity Football United Racism Divides (FURD), who helped with some of the research, said: "He was a colourful character and the people of Rotherham really took him to their heart."
Ms Leeson discovered that Mr Wharton was buried in an unmarked grave in Edlington near Doncaster and FURD has raised money to buy a headstone.
Ms Leeson will be joined at the match at Wembley by Cyrille Regis and Brendon Batson.