Vicar from Grimethorpe walks 40 miles with crucifix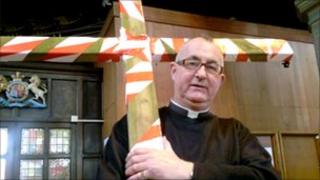 A Barnsley vicar will walk 40 miles across Yorkshire, carrying a wooden crucifix to raise money for his church.
Father Peter Needham will walk from York Minster on Friday to his home parish of St Luke's Church, in Grimethorpe, over three days.
He is hoping to raise £200,000 for the St Luke's Grimethorpe Fund by carrying a 12.24kg (27lb) wooden crucifix.
He has tied safety tape around the crucifix to help any other road users see him on his trek.
Any money that he raises will go towards continuing renovation on the church to improve community facilities.
Father Needham said: "The church is there to help serve the community better.
"We desperately need to provide a disabled toilet and a kitchen for the elderly community.
"We really do want to run a toddlers group but we can't because the flooring isn't fit for health and safety, so we really want a new one".
The church, which was built in 1904, was threatened with demolition in 2001 because of its poor condition. However, it was saved after a campaign.
'Love of the parish'
Since Father Needham joined the church in 2002, he said St Luke's had gone through periods of restoration, including a new roof and stained glass window.
During the 40-mile fundraising walk, Father Needham will pass through Selby, in North Yorkshire, and Pontefract, in West Yorkshire.
He will walk into Grimethorpe on Saturday 2 April, alongside the Bishop of Pontefract and the Sea Cadets from Barnsley, who will join him for the final 10 miles.
Father Needham said: "It seemed like a good idea three months ago.
"It's all for the love of God and the love of the parish."