Ambulance crew in South Yorkshire win bravery awards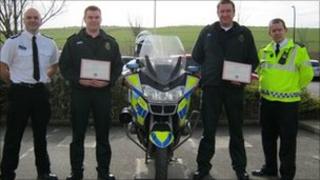 Two ambulance staff working in South Yorkshire have been given bravery awards after rescuing the occupants of a burning car.
Paramedic Pete Cownley and emergency medical technician Richard Mitchell from Wath Ambulance Station were nominated for the awards by police.
The men were called to a traffic accident at Treeton in November 2009 and rescued two unconscious people.
The car in the crash was subsequently completely destroyed by fire.
The awards are given to people in recognition of acts of bravery in rescuing others from the life-threatening effects of fires.
The men were presented with their awards by Ch Insp Stuart Walne and Ch Sup Keith Lumley.
Richard, who lives in Conisbrough, said: "We didn't waste any time and had to weigh up in seconds what needed to be done.
"The engine compartment of the car was on fire and that's when I saw the two lads in the front not moving.
"I shouted to Pete and we acted instinctively. It wasn't until afterwards that we realised how fine the timing had been as the car was fully ablaze within 30 seconds of us pulling them out."