Sheffield persistent beggar numbers reduced in centre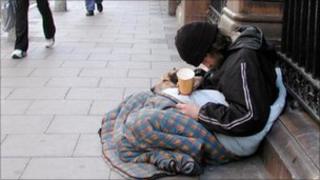 South Yorkshire Police say they have reduced the number of persistent beggars in Sheffield city centre from more than 20 to about five.
Police acted after requests were made on the City Centre Community Forum.
Insp Alex Murthi said the remaining handful of persistent street beggars were making a "lifestyle choice".
Being helped with various problems including drugs and alcohol dependence meant former beggars left the street, said police.
The reduction in begging is not aimed at the city's Big Issue sellers, but a handful of persistent beggars who have refused any offers of help from the police and other agencies, said police.
The police said they were now considering action to tackle those that continue to go out at night and ask for money.
Insp Murthi said: "We have helped over 20 people so far and if we can start to deal with these people it'll make the city centre a much better place."
Drugs issue
Further action including Asbos is being considered for the few remaining beggars who often target people using cash machines close to bars and clubs.
Tim Renshaw, Chief Executive of the Cathedral Archer project said the police had done a "fantastic job" but called for patience in dealing with the people that remained on the street.
Mr Renshaw added: "People who have got right down to the bottom actually need a bit of care to work with.
"Drink and drugs are a big issue and it's about being brave enough to turn your back on it and walk away."