Petition to save Wombwell Baths in Barnsley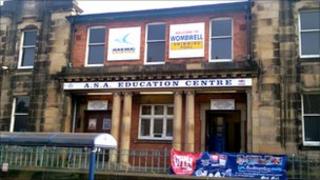 A petition has been started to save a Barnsley swimming pool at risk of closure as part of council cuts.
Barnsley council is proposing to shut Wombwell Swimming Baths as it looks to save £46m from its total budget over four years.
The authority is also looking at closing Penistone and Athersley Leisure Centres to save cash.
Swimmer Barbara Emson said closing Wombwell would have a "devastating effect" on the community.
'Financial restraints'
The petition to save the pool has been signed by more than 2,000 people.
Ms Emson said: "It's an asset to the Wombwell community. It is widely believed that shutting the baths will have a devastating effect. We can't just sit back and let it close."
Barnsley Council said it needed to make public service savings of £12m in 2011 and that the closure of the three leisure sites would save £1.5m over five years.
Leisure facilities in the borough are managed by the charitable organisation Barnsley Premier Leisure (BPL), which is consulting alongside the council regarding the closure proposals.
Cabinet spokesperson, Labour Councillor Roy Miller, speaking jointly on behalf of the council and BPL, said in a statement: "Any decision to close leisure facilities would never be taken lightly.
"Sadly, given the UK's well-publicised financial climate and the immense pressures on the budgets of councils and charitable organisations such as BPL, such difficult decisions become unavoidable.
"Despite numerous efforts over the years to secure funding, increase visitor numbers, or both, the lack of users or of funding to suitably modernise the buildings means that there is really no option other than to look at closure."
'Such pressure'
Mohd Ilyas, chairman of Rotherham and Barnsley Liberal Democrats, said in a statement that the party "regret the necessity to close leisure centres run by BPL" and cuts were "inevitable when budgets for adult social care and other budgets are under such pressure".
"The vulnerable must come before leisure centres," he added.
Conservative councillor Paul Hand-Davies, for Penistone East, said: "The Barnsley Conservatives support many of the difficult choices that are being made by the Labour party in Barnsley.
"It is regrettable that sporting facilities will be lost but difficult choices that are being made in difficult circumstances."
The council said it did not know when a final decision about the closure of the sites would be announced.