Doncaster Rovers given permission to train at Keepmoat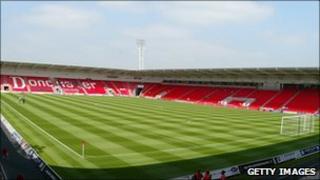 Doncaster Rovers have been given permission to train on their home pitch ahead of a match against Cardiff City.
The players had been banned from using the pitch on Friday by the Stadium Management Company (SMC) which runs the Keepmoat Stadium.
SMC said it would have been unfair to the Doncaster rugby league club who also play at the stadium.
Dave Morris, Chief Executive of Doncaster Rovers, said the team was glad the situation had been resolved.
He added that the team did appreciate SMC's co-operation.
SMC said it supported Rovers and all the stadium's tenants but the "quality of the playing surface" ahead of the weekend fixture was its main priority.
Doncaster Rovers will play Cardiff City in the Championship on Saturday.