Ex-Barnsley Council workers told 'no more jobs for life'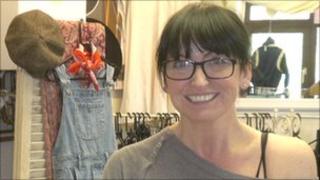 When Nicci Hall got her job at Barnsley Council 18 months ago she thought it might be safe, maybe she would be there for 10 years or so.
In March this year she was made redundant. Her role as a behavioural support worker was no more.
"We've been brought up to believe in Barnsley that if you get a job with the council you've got a job for life," she told BBC News.
"It was shattering to find out that's not true any more."
The Labour-controlled council is Barnsley's biggest employer, with one third of people in the town working in the public sector.
Coal or council used to be the two main career choices.
The decline of the mining industry is well documented, but with £26m cut from this year's council budget, some say the private sector now needs to take a bigger share of the town's workforce.
'Those days are gone'
Andrew Deniff, from Barnsley Chamber of Commerce, thinks attitudes need to change.
"Barnsley like a lot of towns in the north of England has been traditionally reliant on the public sector," he said.
"There are no jobs for life any more. Those days are gone I'm afraid."
He wants banks to be more tuned in to local economies to give more help to start-up businesses and for delays in the planning process to be cut.
"It's up to the private sector and local businesses to drive the change," said Mr Deniff.
"The private sector will absorb some of the jobs but not all of them. I think we've got to make it easier for businesses to recruit people."
Sue Campbell works for Barnsley Council helping people back into work. Ironically, she was nearly made redundant this year until more funding was found for her role.
"I think statistically Barnsley is very low in the number of start-up businesses," she said.
"We will start with people from the seed of an idea, refer them to banks and solicitors and work with them as long as they want.
"Someone may never have thought of self employment as an idea but we want to generate those ideas."
'Awful feeling'
Ex-council employee Nicci Hall's idea used to be her hobby, which she has turned into her livelihood. She now runs a vintage clothes shop on Summer Lane near the town centre.
"It's an awful feeling to be told that the skills that you trained for were being seen as not important any more," she said.
"My confidence was completely affected by it.
"It was probably a really mad decision when I decided to take over the lease, but it's gone really well.
"It's been great to see people's faces when they see the shop."
She says that help is there for people who want to start their own business and that relying on a job for life does not help if you find yourself out of work.
"I would say to people to go for it. It's as if there's a feeling that there's nothing to lose.
"There isn't much out there in terms of jobs and I think if you feel you've got a talent then it might be a good idea."