Barnsley disabled arts organisation facing funding crisis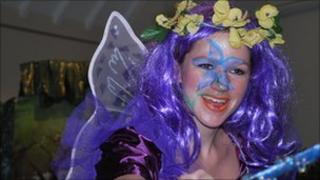 An arts organisation for the disabled in Barnsley is facing a funding crisis after losing an Arts Council grant.
Action Space Mobile (ASM), based in Mapplewell and Staincross, has lost £23,000 a year, which it said made up its core funding.
The company, set up in South Yorkshire in 1984, pioneered arts work with disability which it now specialises in.
Artistic director Mary Turner said: "It is a serious situation, we are losing our core funding."
The group runs two theatre companies in Sheffield and Barnsley for adults with disabilities.
It also runs workshops with young disabled people to help them develop their social skills and explore creativity.
The company also works with schools and community groups on arts projects such as performance and visual arts and involves about 250 people each year.
It has developed expertise in the area of arts and disability, which has also seen its staff work abroad training arts therapists in Romania.
Ms Turner said: "We will have to look for other funding to continue this work and hope to be able to find the funding to carry on".