Sheffield Hallam University plans £8,500 tuition fees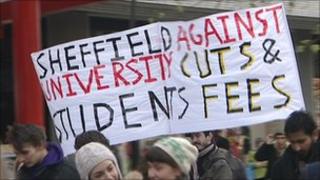 Sheffield Hallam University has announced plans to set tuition fees at £8,500 a year from 2012.
The university said it had "carefully considered" the fee and had "set it at a level that will deliver high quality education".
It said it would waive fees on the placement year of all sandwich courses for students who enrolled at the university after September 2012.
The proposals are subject to approval by the Office for Fair Access.
Thousands of Sheffield Hallam University students live in halls of residence within the constituency of deputy prime minister and Liberal Democrat leader Nick Clegg.
In November, 200 students marched from the university to Mr Clegg's constituency office in protest over tuition fee rises.
A university spokesperson said: "The new fee will compensate for the government's 80% cut in our teaching grant and the significant cuts in capital funding.
"Like all universities, we have carefully considered our fee, and have set it at a level that will deliver a high quality education and allow us to invest for the future."