Police German shepherd puppies seen live on web cam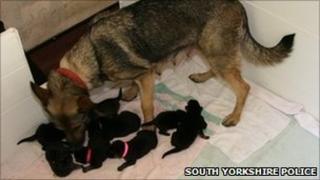 A web cam has been switched on by police keen to show off their newest recruits - 10 German shepherd puppies.
It is the first time South Yorkshire Police have shown the process behind training up puppies in this way.
The puppies will remain with their mother, Goldie, until they are seven months old. They will then live with volunteers until their police dog training begins.
The litter was born last month at the dog training centre in Sheffield.
Dog training school manager Harry Morton said: "This is the fourth litter born at South Yorkshire Police and it's great to have the new arrivals around.
"It is a busy time when a new litter is born but Goldie and her pups are doing exceptionally well, and thankfully, all are fit and healthy. I hope that people enjoy watching the pups' progress over the next few weeks."