Barnsley brain abscess woman left 'to die' on ward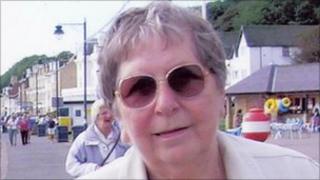 A woman died from a brain abscess after two hospitals failed to co-ordinate her transfer for emergency surgery, an inquest has heard.
Margaret Hardwick, 72, from Barnsley, died four days after she was meant to be transferred.
The inquest heard there was a communication "mix-up" between Barnsley District General Hospital (BDGH) and the Royal Hallamshire Hospital (RHH).
The inquest heard Miss Hardwick would have had a 90% chance of survival.
BDGH said it had done "everything it could". RHH said it had since improved its systems.
'Left to die'
Miss Hardwick's brother David said: "It is extremely distressing to hear that Margaret was left for four days without treatment which could have saved her life, all because of a basic mix-up in communication.
"It's like they just left her to die, and we sincerely hope the NHS takes prompt action to prevent this from happening to anybody else."
Miss Hardwick was admitted to BDGH in November 2009 after collapsing at home.
Radiologists at the hospital initially diagnosed her with a malignant tumour, but two days later she was correctly diagnosed with an abscess.
Doctors gave instructions for her to be transferred to RHH "without further delay" for emergency surgery, but neither hospital arranged the transfer and she died on the ward on 8 November.
Ian Murray, the family's solicitor said: "This case highlights how basic errors so often have a tragic and devastating effect.
"Miss Hardwick was the victim of a serious failure in communication and it is vital that the NHS conducts a thorough review of its procedures."
Radiologist training
Andrew Cash, chief executive of Sheffield Teaching Hospitals NHS Foundation Trust, said RHH had "learned lessons and made substantial changes" to prevent a similar incident.
"One example is the introduction of an electronic record of the multi-disciplinary meetings which is now available immediately to all the appropriate people involved in the patient's care."
A Barnsley Hospital spokeswoman said: "Our investigations showed that we did everything we could and that our systems are safe."
Mr Murray also told the inquest that radiologists at BDGH had not been trained in differentiating between abscesses and tumours, further delaying treatment.
Coroner Christopher Dorries who recorded a narrative verdict said he would write to the chief medical officer to request the NHS provides nationwide training to radiologists.