'Better than imagined' as Labour takes Sheffield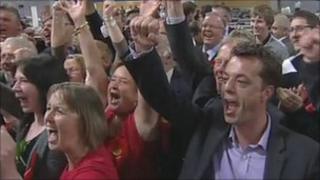 Labour have described it as "bigger and better" than imaginable after taking control of Sheffield City Council - the city where Nick Clegg is an MP.
The Liberal Democrats played it down as a "short-term setback" and one that the electorate might judge "harsh" in the future.
But there were cheers at 0315 BST as the results were read out.
Labour clinched 49 out of 84 councillors, taking nine seats from the Liberal Democrats who won 32.
The city's Labour leader Julie Dore said: "I think it's one of the most amazing things in the world to do - to represent the city that you were born and bred in.
"I'm very much looking forward to presenting Labour policies and introducing our strategies to Sheffield people."
In the jubilation following the win, she said the Labour-led council planned to reinstate some funding to Sure Start children's centres and Police Community Support Officers as well as creating 100 apprenticeships and a youth unemployment fund.
But the outgoing Liberal Democrat council leader Paul Scriven said Labour was playing the "most cynical political game in modern history".
"They've created this financial mess and now they are going around and pretending that this is nothing to do with them and somehow the bad Liberal Democrats have created these cuts.
"We came into this [the coalition government] not for short-term party gain but to sort out the mess Labour left."
David Blunkett, former Labour home secretary and MP for Sheffield Brightside and Hillsborough, blamed the result on Mr Clegg's unpopularity.
He said: "I think Cleggmania of this time last year has turned into a kind of Clegg-pneumonia"
But the demise of the Lib Dems in the city perhaps started last year.
The party lost overall control of the council leaving no party in charge, although they did maintain the majority, with just a single councillor more than Labour.
And the Lib Dems cannot blame a poor turnout on the results.
In some wards, turnout was higher than usual, in Greaves Park 48.2% of people voted and in Stannington 46.2%.