Protests over changes to Sheffield College courses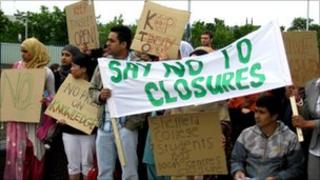 A protest is being held outside Sheffield College against the closure of adult education course centres across the city.
Around 70 students have gathered outside the city's main campus on Granville Road.
The college has announced that it needs to save £4m in a 12-month period as part of government funding cuts.
Sheffield College has estimated that it will save around £1m by running the courses on its premises.
The college which has been renting rooms within the community for part-time and evening courses at Darnall Education Centre, Prince Edward Primary School, Tapton School, Tinsley Community Centre and Vestry Hall in Burngreave.
From September, the community-based courses will relocate to the college's main sites around the city, including Hillsborough College and Norton College.
However many students are unhappy with the changes and say that they are "unaffordable for many students".
Syeda Panna told the BBC the cuts were "not fair."
'Difficult decision'
Mrs Panna who is studying English at Darnall Education centre told the BBC that she could write, read and speak English because of the courses that she attended.
"It's not fair, that is why I am here today. Darnall is near to me. I can't travel into Sheffield because I have children, a family and a husband.
"I can't come here [to Sheffield city centre] every day. The bus is very expensive. I want to study in my own area."
The community-based courses which include English for Speakers of Other Languages (ESOL), Skills for Life literacy and numeracy courses, may also see the number of free places reduced as part of government plans.
Heather MacDonald, Chief Executive for Sheffield College said in a statement: "Pulling back from community-based provision has been a difficult decision especially where the withdrawal of funding for literacy and numeracy skills is concerned.
"We are consulting with the voluntary sector to see if they can assist with supporting some of the gaps in provision, particularly for ESOL."
As the college continues to look to cut a further £3m from its budget, it is considering plans to lose 121 posts.
Further changes include expanding classroom sizes and increased course fees for adults and employers.