MPs' expenses: Eric Illsley released from jail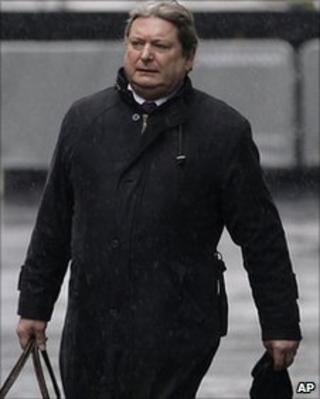 Former MP Eric Illsley has told the BBC he was used as a "scapegoat", on his release from prison three months into a 12-month sentence for expenses fraud.
The ex-Barnsley Central MP was jailed in February after admitting dishonestly claiming £14,000 of parliamentary expenses relating to his second home.
He told BBC News: "My case shouldn't have been brought before the court.
"There are so many others who have walked free and nobody is going to say a dickie bird about their situation."
Sentencing him at Southwark Crown Court in February, Mr Justice Saunders said Ilsley had breached the "high degree of trust" placed in MPs by the public.
However, speaking from his home in Pogmoor, Barnsley on Friday, the former Labour MP said: "I pleaded guilty because I realise that was the way to go forward and here I am.
"As far as I'm concerned I pleaded guilty, I've done my prison time, I've paid my penalty and punishment.
"What a lot of people didn't know, and still don't know, is that only a handful of MPs were ever investigated.
"My case didn't allow me to highlight the fact that I hadn't done anything different from a lot of other MPs who had simply kept their heads down and carried on with their careers and were quite happy to see me as a scapegoat."
Illsley pleaded guilty to three charges of false accounting, admitting to dishonestly claiming payments for insurance, repairs, utility bills and council tax at his second home between 2005 and 2008.
Just two days earlier he had stood down as an MP.
He told BBC News on Friday: "No sooner had I resigned my seat, I was sent to prison, so I didn't have much time to reflect on the fact that I was no longer MP.
"Inside I was referred to as 'the MP'.
"Twenty-three-and-a-half years as an MP and that is behind me now. So I look to the future, a new career."
Illsley was re-elected as Labour MP for Barnsley Central in the election of May 2010 but was suspended from the party when he was charged shortly afterwards and then sat as an independent until he stood down from parliament.