HIV tests for former Doncaster College pupils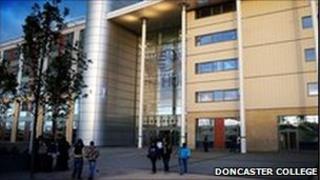 HIV tests have been offered to about 100 former students of a college in South Yorkshire after blood borne health risks came to light.
Multiple pupils at Doncaster College were pricked with needles designed for a single use in 2009.
The Health Protection Authority said the chance of infection is "low". The college has contacted those at risk.
The screening was prompted by a former pupil who allegedly caught a blood borne infection while at the college.
'Stressful time'
Principal of Doncaster College, George Trow, said: "The allegation remains unsubstantiated however this is a serious situation and my priority is the health and welfare of staff, students and members of the public.
"On the advice of the specialist agencies, as a precautionary measure, arrangements have been made to offer support and screening to former students.
"I understand that this may be a stressful time for the students and their families and we are making every possible effort to deal with the situation as quickly as possible."
Those tested will be checked for hepatitis B, hepatitis C and HIV by NHS nurses.
Director of communicable disease control at South Yorkshire Health Protection Unit, Dr Wendy Phillips, said: "Whilst the risks are low, it is important that those individuals who receive a letter take up the offer of a test with the local NHS.
"The college has identified and contacted all individuals currently known to have had the opportunity to be involved.
"There are currently no health risks as a result of the incident to any other students at the college or other Doncaster residents."