Dementia sufferers in Sheffield face increased care fee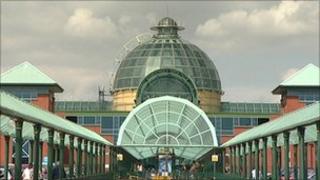 Some dementia sufferers are facing a six-fold increase in the cost of day care in South Yorkshire.
Sheffield City Council has introduced a new system which will see some people's day care charges, which were £5 a week in April, rise to £32 in July.
A council carer who works with dementia patients told the BBC the new system was "ridiculous".
However, a spokesman for the council said people would only have to pay if they have the ability to do so.
The council offers a range of day care services, which include trips to shops and tourist attractions, to people with dementia.
They used to charge a weekly rate of £5, irrespective of the patient's financial circumstances.
However, the authority is now means-testing the charges and is asking people with more than £3,000 in savings to pay the higher rates.
The council worker, who did not wish to be named, said: "One lady I used to take out has stopped going on the day trips because of these price rises. Because she has savings, she has to pay the full charges."
'People feeling lonely'
A recent survey by the Alzheimer's Society estimated that 6,312 people suffer from dementia in Sheffield.
The society has criticised the council, fearing the price rise could cause people to cancel the service.
Caroline Kendrew, from the Sheffield Alzheimer's Society, told the BBC that without the service "it could lead to people feeling socially isolated and lonely".
Eddie Sherwood, director of care and support from Sheffield City Council, said: "It [the system] is based on an individual financial assessment and people will only be asked to pay, if they have the ability.
"Nobody would be asked to pay if they were not in a position to do so."
As part of Sheffield City Council's Fairer Contributions System, service users who have savings of more than £3,000 will be asked for a maximum 70% contribution towards the cost of the services.
The council estimates 35% of customers will not be affected by the changes and will not have to pay any extra.