Woman urges Rother park litter clean-up after dog death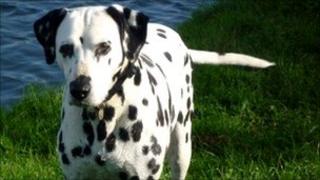 A dog owner in South Yorkshire is urging people to clear away their rubbish following the death of her dog.
Leanne Richardson, who took her dog Pebbles for a walk in Rother Valley Country Park, near Rotherham, wants people to be more considerate when disposing of their waste in park areas.
The dog discovered a used disposable barbecue and ate the remains, which included a kebab skewer.
The skewer pierced the dog's intestines leading to its death.
Mrs Richardson wants to avoid this happening to other users in the park and has urged people to be "more aware".
"There is no consideration for anybody else - young children, wildlife or other dogs. I just wish people would put their rubbish in a bag," said Mrs Richardson.
"It is such a shame that the place she loved the most has cost her her life thanks to litter being left around."
Joanne Edley, promotions manager at Rother Valley Country Park, said: "We are asking that customers either bag their litter carefully and put it in the park's bins or take it home with them.
"We would also warn dog owners to keep a close eye on their animals because it is their responsibility to keep dogs under control."