Olympic torch coming to Sheffield in 2012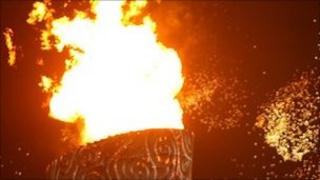 The Olympic torch is set to arrive in South Yorkshire in June 2012 as part of a 70-day tour of the UK.
The torch will arrive in Sheffield on Sunday, 25 June on its journey from Land's End, Cornwall, to the Olympic Stadium, arriving on 27 July.
Organisers of the Games said the torch would travel 8,000 miles around the UK before reaching the stadium.
The torch's six-day tour of the Yorkshire and Humber region has been welcomed by the city.
Britain's number one table tennis player Paul Drinkhall, from Rotherham, said the arrival of the torch was particularly appropriate in Sheffield, which is home to the English Institute of Sport and the city where Lord Coe grew up.
"I think it's going to be huge all across the UK and I think Sheffield is such a big sporting city it'll just kick it all off," he said.
"Everybody's just waiting for that day now.
"I just think it's going to be such a great experience for everybody to get a feel for the Games before it actually starts."
'Very exciting'
Councillor Julie Dore, the leader of Sheffield City Council, said: "Sheffield is a great sporting city.
"We host many elite international sporting events, as well as being the training base for several British Olympic and Paralympic teams.
"Our expertise and facilities has attracted several countries to base themselves here prior to the London 2012 Games.
"It is very exciting for Sheffield that all this Games-related activity is topped off by the Olympic flame coming here.
"The economic boost to the city of hosting major sports events and international training camps runs to over £6m, not to mention the huge boost and inspiration it gives Sheffield people to get involved in sport themselves."
Gary Verity, chief executive of Welcome to Yorkshire and chairman of Yorkshire Gold - the organisation responsible for promoting the Olympic games in Yorkshire - said it was terrific news.
Mr Verity said: "Hosting the torch over six days in Yorkshire and Humber is terrific news.
"I urge everyone to play their part in making sure we make the most of this once-in-a-lifetime occasion."
Lord Coe, chairman of the London Organising Committee of the Olympic and Paralympic Games, said: "The Olympic flame will shine a light right across every nation and region of the UK and showcase the very best of who we are and where we live."