Rare newts moved for flood bank repair in Doncaster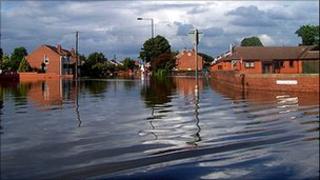 Rare newts which halted work to protect 1,500 homes from flooding in South Yorkshire are to be moved to a safe location.
Repairs to Ea Beck in Doncaster was stopped in October because of the protected newts' hibernation period.
The work was scheduled after thousands of people were forced to leave their flooded homes in Bentley and Toll Barr in 2007.
It is due to restart in July, after the Environment Agency moves the newts.
The Great Crested Newt is protected under the Wildlife and Countryside Act 1981 and permission for their removal must be granted by Natural England.
The work, which is part of a £2.6m investment to improve the flood bank, had started in the Duck Halt area in September but had to be suspended because of the winter and the newts hibernation season.
Now the newts have finished hibernating they will be relocated to a nearby site over a two-month period.
Biodiversity officer Andrew Virtue said: "One side of the flood embankment at Ea Beck was right next to a significant breeding pond and the embankment was so overgrown that it had become ideal newt habitat.
"Because of their protected status, we had to clear this area of newts before any work could begin."
Mr Virtue added: "Once we have moved all of the newts work can take place to reconstruct the flood bank, giving peace of mind to local people."
It is hoped that the three final stages of the flood relief scheme along the Ea Beck will begin in August.