Archbishop of York wants God discussed 'like weather'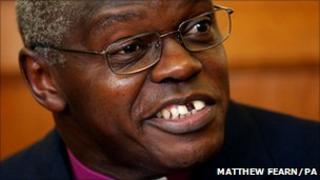 The Archbishop of York has said the world could be a "different place" if people talked about God as much as they do the weather.
John Sentamu made the comment during a two-day visit to South Yorkshire.
He said: "If they talk about God, in the same way that they do about weather we maybe in a very different place."
During his pastoral visit to the county he met people from the local community including teenagers, steel workers and young offenders.
'Helping neighbours'
He visited inmates at the Young Offenders' Institution and hosted a question and answer session, which he said was a highlight of his tour.
He also spent a day in Sheffield, attending Morning Prayer at the cathedral before meeting business leaders, workers at Forgemasters and visiting the homeless centre, The Archer Project.
He said: "If you look in Sheffield, there are churches out there who are trying to help their neighbours.
"The joy for me in the Church of England is that there isn't an area that the church doesn't cover.
"Serving your neighbours and caring for one another is fantastic."