Cudworth farm raid: Pigeons slaughtered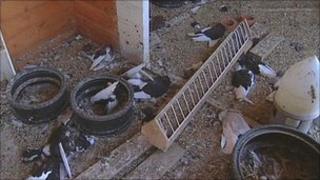 Dozens of prize pigeons have been slaughtered by intruders in the latest in a string of attacks at a farm in South Yorkshire.
Eighty-four birds, including chicks, had their heads and wings torn off in the break-in at Cudworth, near Barnsley, on Thursday night.
The owner, a disabled man who did not wish to be named, said there had been 12 incidents at his farm in 12 weeks.
Police said they were investigating the "recent incidents" at the farm.
"Local officers are in regular contact with the occupant and police enquires are ongoing," said Insp Gill Blake, of Cudworth Safer Neighbourhood Team .
The crime spree began with tools being stolen, then ferrets were taken and caravans broken into.
'He's scared'
On Monday six hens were killed and on Thursday night pigeons worth thousands of pounds were targeted.
They had been specially-bred by the farm owner, who has kept pigeons for many years.
The owner and his friends said they had no idea why the farm was coming under repeated attack.
The owner's friend Arthur Holmes told BBC News: "He's scared. He won't say he's scared, but he's scared.
"He lives in the bungalow on his own and he's disabled. He can't walk and they're just coming and doing everything.
"I'm really upset for him, they're just wiping him out."
Describing the scene in the pigeon shed after Thursday's attack, he said: "There's little dead chicks, there's dead pigeons everywhere, broken eggs.
"They've pulled heads off, wings off, they've just ripped them to pieces.
"Whoever's done this is a madman."