South Yorkshire Police plan to close front desks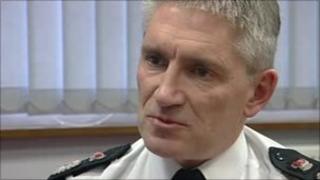 Front desks at police stations across South Yorkshire are being earmarked for closure in a bid to save money.
The Chief Constable of South Yorkshire Police, Med Hughes, is proposing to close 13 out of 19 police desks.
The front desks are currently open to members of the public for inquiries on an ad hoc basis.
Under the new proposals people would have to make an appointment in advance before being able to meet with a police officer.
'The big issue'
Chief Constable Hughes said: "We're not closing a single police station.
"The big issue for us is that people only ever attend a police station when they are asked to by us so if we need to see you, you can make an appointment."
It is expected the closures would keep a minimum of 10 police officers working on streets, as part of cost-cutting measures.
The Chief Constable added that he would have taken the decision even if his budget had not been reduced.
South Yorkshire Police has to save £15m this year.
Under the plans, six front desks would remain open, which include Sheffield's Snig Hill, Moss Way and Ecclesfield.
The main desks in Barnsley, Rotherham and Doncaster would also remain open to the public for inquiries.
It is expected the plans will be submitted to the Police Authority at the end of June.