Salvation Army work with teenagers to create short film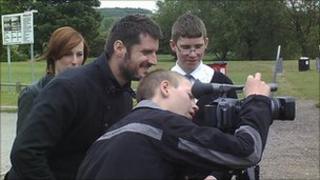 The Salvation Army in Goldthorpe are working with teenage boys to produce a short film about the town.
The 'What Is, What Could Be?' project gave the teenagers the chance to learn film making and editing skills as well as develop their confidence.
Year 9 students at Dearne Advanced Learning Centre interviewed residents about their thoughts on the town and what they would like to see changed.
An exhibition showcasing the students work will open on 8 June.
The Goldthorpe Salvation Army and Wayne Stables Artistic Project worked with the students to find out what changes people would like to see in Goldthorpe including a skateboard park, cinema and a space for older people to meet.
'Goldthorpe promises'
Residents also raised concerns about the amount of litter on the streets and the number of derelict buildings in the town.
Captain Chris Lee said: "Goldthorpe has been promised a great deal but there is very little for teenagers to do, the film has given the teenagers the chance to say what they would like to change.
"These boys had low self confidence and it has been fantastic to see them increasing in confidence and working with other people."
Mrs Lee added: "The Salvation Army is about faith but is also about helping people better themselves and once you see some of the boys behind the camera they really come to life."
Film director Wayne Stables who was also involved in the project said: "We have really enjoyed working with these teenagers and they have really developed their film making skills."
The film and an exhibition of work carried out by the teenagers will be shown at The Salvation Army Hall in Straight Lane, Goldthorpe on Wednesday 8 June.