Anger over plans to build on Rotherham greenbelt land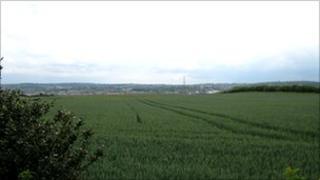 Residents in South Yorkshire are opposing plans to build hundreds of homes on greenbelt land.
Rotherham Council is proposing to build 12,750 new homes by 2027. It said it would use "brownfield land first" but some greenbelt land would be needed.
The council said that it wanted to work with the "people of Rotherham" to make sure that they get it "right".
However, residents opposed to the idea have said the plans, which cover 568 acres (230 hectares), were "vague".
Although the council will initially build on brownfield land, such as former colliery and industrial sites, it said some greenbelt land would be needed towards the end of the development period.
'Immense' development
The Labour-led council said it had revised its plans after receiving 5,000 signatures on a petition last year. It now envisages using 60% less greenbelt land than originally planned.
Simon Collett who started a petition and lives in Greasbrough, one of the proposed building areas, said: "All that we've been given is an A5 leaflet which was very vague, to say the least.
"The scale of the development is the scale of five football pitches. It is an immense amount of land."
Karl Battersby, strategic director for Environment and Development Services for Rotherham Borough Council said that the authority had "learned from the last consultation" and that "significant changes" had been made.
He said he welcomed an "open and honest discussion".
Details of the proposed plans will not be revealed to the public until later in 2011.