Patrick Stewart praises Barnsley school Hamlet production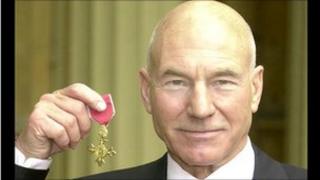 A group of school children from Barnsley have received a message of support from Star Trek actor Patrick Stewart.
Students at Hoyland Common Primary School are performing a short version of Hamlet at the Lamproom Theatre.
The actor said: "To be tackling the likes of Shakespeare whilst still at primary school is truly amazing."
Teacher Glyn Robinson said: "The actor was very impressed we were doing Shakespeare with this age group".
The actor, who plays Jean- Luc Picard in Star Trek, added that he "wished them every success" with the production.
'Scary, stunning'
Stewart got to hear about the production after Barnsley author Mel Dyke told the actor about the project to get children in the town into theatre.
The children have been working on Hamlet since October and are sticking to the original language of the play.
Ms Dyke has seen the rehearsals and described it as "scary, stunning and beyond anything you will see this year."
Mr Robinson added "It is amazing to give the opportunity for these children to engage with Shakespeare at an early age."
The students will be perform at the Lamproom Theatre in Barnsley as part of the South Yorkshire Youth Drama festival.