Sheffield athlete Jessica Ennis made MBE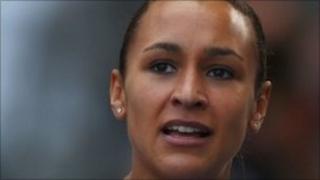 Sheffield athlete Jessica Ennis has been appointed MBE in the Queen's Birthday Honours list.
The world and European heptathlon champion and world indoor pentathlon champion spoke of her pride.
"It is hard to put into words what it feels like to get such an honour in recognition of my sporting achievements."
The Barnsley-born presenter of BBC Radio 4's Woman's Hour, Jenni Murray, has been appointed OBE.
Catherine Billingham, of Sheffield, also becomes an OBE for her work in child health care.
Charles Elms has been appointed MBE for work with an armed forces charity.
Elsewhere in South Yorkshire, former consultant obstetrician and gynaecologist Heather Mellows is appointed OBE for her work at Doncaster and Bassetlaw Hospitals NHS Foundation Trust.
Stephen Brailey, the chief executive of Sheffield International Venues, the organisation that runs many of the sports and leisure centres in the city, has been appointed MBE.
Ennis added: "I love my sport and can't think of anything I would want to do more, and to be recognised for the years of hard work and the success I have had over the past two years means so much."