South Yorkshire Pc says 'morale at rock bottom'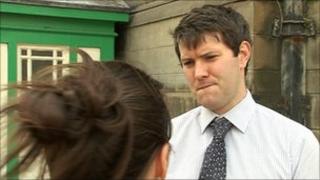 Two police officers in South Yorkshire claim that morale in the force is low following government spending cuts.
Pc Stott, a traffic officer, told the BBC: "Morale is at rock bottom. Is there a future for police officers? No one knows what is going to happen."
South Yorkshire Police agreed to save £15m over the year, with an overall saving of £40m by 2015 in February.
Chief Constable for South Yorkshire Police Med Hughes said the criticisms created an uneven picture.
'Rise in crime'
A female police constable with South Yorkshire Police, who wanted to remain anonymous, said cuts would lead to "a rise in crime".
"There are going to be less police officers on the streets," she said.
"The morale has just gone right down. I think we're just going to have a very unhappy police force."
Mr Hughes said the priority was to reassure and serve the public.
"Regardless of our problems inside the organisation we will always attend calls, we will always attend to the public's issues with a good heart," he said.
"To say morale is low, is an uneven picture. In some areas, morale remains high despite everything."
The Home Office said police must make their fair share of the savings.
"Unlike other public sector workers who are also dealing with spending reductions, police officers are protected from compulsory redundancy," a spokesperson said.
The Home Office added that any changes to pay and conditions would be discussed through the formal procedures.