Sheffield artist hands out one picture a day for a year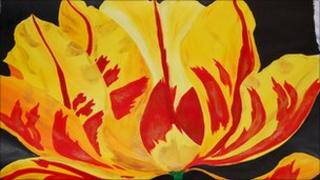 An artist from Sheffield is giving away one of her paintings to strangers each day for a year.
Donna Jones has been driving around the city in her graffiti car handing out free art work.
She then takes a photo of the recipients and asks them to write something about the painting for a new exhibition at the end of the year.
Ms Jones said: "I've had a great response, people are very responsive and chuffed to bits with the art."
On the back of the works, which feature big and bold pictures, Donna has written 'Do one' in a bid to to encourage people to paint a picture and pass it on.
Ms Jones added: "People are very cautious at first and think I'm crazy giving them something which they think I will charge for it but once I explain the project they are generally very supportive."
She is hoping that the project will cheer people up and spread some happiness.
Ms Jones added: "The project started in Cardiff. People donate their paintings for an exhibition and at the end of the show the artists cycle around the city and give away the art work."
Ms Jones worked as a youth worker on the Manor and Wybourn estates in Sheffield for 31 years until she was made redundant last year.
She was made an MBE for her youth work in 2011.