Sheffield areas share £250,000 revamp fund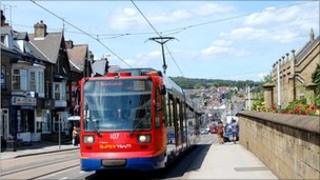 A total of £250,000 is being given to redevelop four rundown areas of Sheffield.
Sheffield City Council is investing the money as part of a pilot scheme to help struggling areas in the city.
The Economic Fighting Fund will give Chapeltown, Stocksbridge, Hemsworth and Hillsborough a portion of the money over a year.
Council leader Julie Dore said the money would be used to "generate and improve the economy."
Sheffield Council commissioned a report in 2010 to identity the main problems across certain communities.
Seventeen district centres were categorised into three areas and from each category an area was picked to receive a portion of the allocated £250,000.
Stocksbridge, which was found to be facing "major challenges", while Chapeltown was labelled as having "untapped potential" - they will each receive £50,000.
A decision on how the money will be spent will be taken by local community assemblies and forums.
'Probably be surprised'
The money can be spent on various improvements, which could include, improving access, cleaning, improving or building new public toilets, as well as addressing issues of attracting new business to fill empty shop units
The Labour leader for the council said people would "probably be surprised", that £150,000 was being invested in Hillsborough, which was found to be "healthy" in the report commissioned by the council.
The report, which also looked at local centres, addressed Hemsworth as an area which faced "major challenges".
Gaunt Road will receive the remaining £25,000, which will be spent on working with young people in the local area, with the possibility of opening a community-run cafe.
The Economic Fighting Fund was set up as a pilot scheme by the council.
Ms Dore said she was unsure whether it will continue next year.
She said: "Whether we can sustain spending £250,000 a year on district shopping centres is yet to be seen."