Buyers take legal action against City Lofts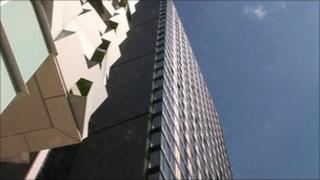 More than 20 people who bought flats in Sheffield's tallest building have started legal action against the developers.
The buyers, who have formed St Paul's Tower Action Group, say the company strayed from its original plans, leading to a devaluation in properties.
One buyer said underfloor heating promised for the whole flat had only been installed in one room.
City Lofts said it was unable to comment on individual cases.
One couple, Peter and Valerie Harpham, who signed a contract to purchase one of the penthouses in St Paul's City Lofts for £337,000, said they were "shocked" and "disappointed" when they saw the apartment.
The couple said that the penthouse had changed significantly from the original plan.
They said six windows had not been installed, security glass coverings had been replaced with metal railings, and under-floor heating only featured in one room, rather than the whole apartment.
An independent valuation commissioned by the Harphams valued the property at £160,000.
Solicitors acting on behalf of the St Paul's Tower Action Group say they are trying to reach an agreement with the developers.
The 32-storey building, which is approximately 100 metres high, has 316 apartments. Currently, 98 flats are occupied.
City Lofts has said it estimates it will fill 54% of the development - 160 apartments - before the end of the summer.
A spokesman for City Lofts said a "the vast majority" of buyers had been happy with the apartments, however "a small number of people who bought prior to the financial crisis have sadly, seen a fall in previous values."