Council hand over ownership of Hoyland landmark to trust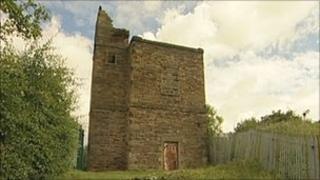 A historic landmark in Barnsley is being handed back to the community.
Former hunting lodge Lowe Stand in Hoyland has fallen derelict and Barnsley Council are handing it over to the Hoyland Lowe Stand Trust who are hoping to repair it.
The trust are aiming to raise £450,000 to carry out the repairs.
Trust secretary Allan Wood said: "There is nothing like this in Hoyland. We want to give it back to the community."
Repairs needed include rebuilding and re-roofing the top of the tower and putting in windows, doors and floors.
Once complete there will be a restaurant, museum and viewing deck at the site and work is expected to be completed in eight months.
Mr Wood said: "It is quite a task but it is very do-able in that time scale."
Lowe Stand was built in 1750 for the Marquis of Rockingham and was used as a hunting lodge when the valley surrounding it was full of red deer.
The trust was established in 2007 with the aim of ensuring the landmark would still be standing in 100 years time.